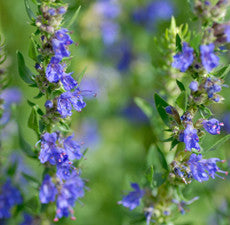 Botanical Name: Hyssopus officinalis L.
Main Constituents:
β-Pinene: 12.9% Isopinocamphone: 29.1% Pinocamphon: 15.5%


Plant Part: Flowers
Origin: Slovenia
Processing Method: Steam Distilled
COMMON USES:
CIRCULATORY: poor circulation.
DIGESTIVE: colic, constipation, cramps, flatulence, indigestion, poor appetite.
IMMUNE: colds, herpes (cold sore), influenza, sore throat, tonsillitis.
LIMBIC: depression, mental fatigue.
MUSCULAR: cramps.
REPRODUCTIVE: cramps, PMS.
RESPIRATORY: asthma, bronchitis, cough.
SKIN: bruises, dermatitis, eczema
Hyssop Essential Oil is Rare and is known as  the "Holy Herb," Hyssop is renowned for its healing effects. Used in sacred places, its medicinal benefits include clearing and strengthening the lungs, calming the digestive system, and boosting the immune system.
Warning - This oil should only be used in moderation, and should be avoided in pregnancy and those who suffer from epilepsy.  Do not use on children.
These statements have not been evaluated by the Food and Drug Administration. This product is not intended to diagnose, treat, cure, or prevent any disease.