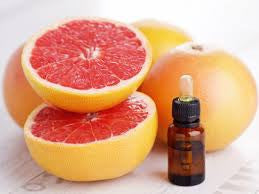 Botanical Name: Citrus paradisi

Main Constituents:
Limonene: 93.75%

Plant Part: Peel

Origin: Mexico

Processing Method: Cold Pressed
**Cures Depression and relieves Stress
**Rich in Antioxidants
**Good for treating oily skin and acne
**Boosts immune system 
**Stimulates Brain
**Insures healthy functioning of Lymphatic System
**Reduces Blood Pressure
**Helps in removal of excess water and toxins from body

Pink Grapefruit is a perfect way to jump into those difficult mornings when you can't bring yourself to crawl out of bed. If it is kept it by the bedside it can be of great help to get moving and wake up. Also great for when feelings of overwhelm issues arise. Brings optimism when feeling down and drained!

Pink Grapefruit essential oil is also useful for enhancing self esteem. After inhalation, one will feel a sense of empowerment. 

Pink Grapefruit is a great aid for appetite suppression.  So be joyful and slim :)
These statements have not been evaluated by the Food and Drug Administration. This product is not intended to diagnose, treat, cure, or prevent any disease.