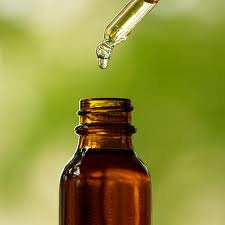 Botanical Name: Thymus vulgaris.
Main Constituents:
Thymol: 35 - 50%
p-Cymene: 15 - 32%
Gamma Terpinene: 5 - 15%
Carvacrol: 2 - 9%
Plant Part: Leaves and stems.
Origin: Spain.
Processing Method: Steam Distilled.
Uses of Thyme Oil
Due to thyme oil's antibacterial, antispasmodic, antirheumatic, expectorant, hypertensive, and calming properties, it has a long list of uses that include:4, 5

Home remedy – Thyme oil is used to relieve and treat problems like gout, arthritis, wounds, bites, and sores, water retention, menstrual and menopausal problems, nausea and fatigue, respiratory problems (like colds), skin conditions (oily skin and scars), athlete's foot, hangovers, and even depression.
Aromatherapy oil – The oil can be used to stimulate the mind, strengthen memory and concentration, and calm the nerves.
Hair product – It is said that thyme oil can prevent hair loss. It is used as a treatment for the scalp and is added to shampoos and other hair products.
Skin product – Thyme oil can help tone aged skin and prevent acne outbreaks.
Mouthwashes and herbal rinses – Like peppermint, wintergreen, and eucalyptus oils, thyme oil is used to improve oral health.
Insecticide/insect repellent – Thyme oil can keep insects and parasites like mosquitoes, fleas, lice, and moths away.

In addition to these, significant health benefits of thyme oil include:14

Helps reduce symptoms of chronic fatigue syndrome
Stimulates menstrual flow
Increases circulation and elevates low blood pressure
Triggers the removal of waste that may lead to cellulite
Eases nervousness and anxiety
Helps fight insomnia
Eliminates bad breath and body odor
How Does Thyme Oil Work?
Thyme oil can be used in a number of ways. It can be inhaled, applied topically, or used as a mouthwash. Below are some particular ways to enjoy its benefits:17

Relieve pain – Mix three drops of thyme oil with two teaspoons of sesame oil. Use this mixture as a massage oil and apply on the abdominal area to relieve pain. This may also be used as a massage oil to treat other types of pain.
Alleviate fatigue – Add two drops of thyme oil to your bath water.
Improve sleep – Add a few drops to your diffuser.
Promote oral health – Use thyme oil as a mouthwash by adding one drop to a cup of warm water.
Reduce appearance of scars and skin marks – Apply oil of thyme mixed with any carrier oil (like almond oil) on the affected area.
Use as cleanser – Add a few drops of thyme oil to your facial wash.
Treat or protect against respiratory problems – Add two drops of thyme oil to hot water and use for steam inhalation.
Uplift mood – Simply inhale the scent of thyme oil.

These statements have not been evaluated by the Food and Drug Administration. This product is not intended to diagnose, treat, cure, or prevent any disease.